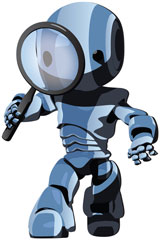 This search robot is searching the World Wide Web for all kinds of information. Also known as a "spider" (because it crawls the Web), the search robot processes text, image, and video content, placing it in its search engine database where it can be easily accessed by search engine users.
---
These search results emphasize US information sources.
Use the search box hereon to research many topics.
Copyright © 2004-2022 Zeducorp.
All rights reserved.
About Us
.
ASearch.us — Custom Search Results